Mark O'Connor (b. August 5, 1961, Seattle, Washington)
  "One of the most spectacular journeys in recent American music." - The New York Times
  "One of the most talented and imaginative artists working in music -- any music -- today." - The Los Angeles Times
  "Brilliantly original." - The Seattle Times
  ""The audience was on its feet . . . They were moved by Mr. O'Connor's journey without maps, cheering for the only musician today who can reach so deeply first into the refined, then the vernacular, giving his listeners a complex, sophisticated piece of early-21st-century classical music and then knocking them dead with the brown-dirt whine of a Texas fiddle." - The New York Times
  A product of America's rich aural folk tradition as well as classical music, Mark O'Connor's creative journey began at the feet of a pair of musical giants. The first was the folk fiddler and innovator who created the modern era of American fiddling, Benny Thomasson; the second, French jazz violinist, considered one of the greatest improvisers in the history of the violin, Stephane Grappelli. Along the way, between these marvelous musical extremes, Mark O'Connor absorbed knowledge and influence from the multitude of musical styles and genres he studied. Now, at age 49, he has melded and shaped these influences into a new American Classical music, and a vision of an entirely American school of string playing. As The Los Angeles Times recently noted, he has "crossed over so many boundaries, that his style is purely personal."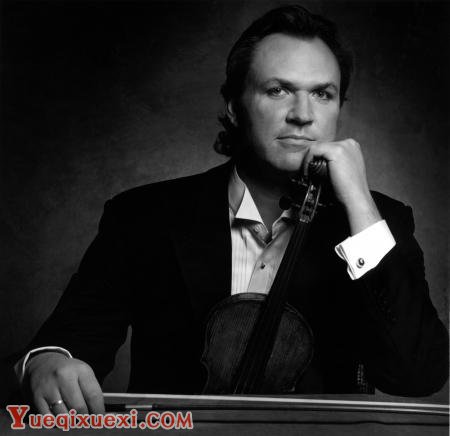 RECORDINGS (over two-million CDs sold as a solo recording artist)
  O'Connor's first recording for the Sony Classical record label, 'Appalachia Waltz', was a collaboration with Yo-Yo Ma and Edgar Meyer. The works Mr. O'Connor composed for the disc, including its title track, gained him worldwide recognition as a leading proponent of a new American musical idiom. The tremendously successful follow-up release, 'Appalachian Journey', received a Grammy Award in February 2001.
  With more than 200 performances, his first full length orchestral score "Fiddle Concerto" has become the most-performed modern violin concerto composed in the last 40 years. It was recorded for the Warner Bros label in 1995. Mr. O'Connor's 2nd concerto "Fanfare for the Volunteer" was recorded with the London Philharmonic Orchestra under the baton of Steven Mercurio, released by Sony Classical in October 1999. The Newark Star Ledger notes: "As a composer, he understands the power of a thematic transfiguration and development throughout a 40-minute work."
  In April 2000, Mr. O'Connor premiered his fourth violin concerto, "The American Seasons: Seasons of an American Life," at Troy Music Hall in Troy, N.Y. According to the New York Times, "… if Dvorak had spent his American leisure time in Nashville instead of Spillville, Iowa, 'New World Symphony' would have sounded like this." The American Seasons was recorded with the Metamorphosen Chamber Orchestra and released in 2001. Richard Dyer of the Boston Globe called the work "concise, lyrical and irresistibly rhythmic." Wayne Gay of the Fort Worth Star-Telegram said, "The American Seasons is destined to rank among the greatest masterpieces of American music…the first musical masterpiece of the 21st century."
  In August 2000, Mr. O'Connor's third concerto, "Double Violin Concerto," received its premiere along with Nadja Salerno-Sonnenberg as soloist and the Chicago Symphony, Christoph Eschenbach conducting. In November 2003, Mr. O'Connor and Ms. Salerno-Sonnenberg recorded the work with Marin Alsop conducting the Colorado Orchestra. Fanfare enthusiastically writes: "All aficionados of the violin and all listeners in general will pass up this recording at their peril. The very highest commendation."
  In June 2001, Mr. O'Connor released Hot Swing!, a tribute to his great friend and mentor, the legendary French jazz master, Stephane Grappelli. Released on his own OMAC label, the CD was recorded live with Frank Vignola on guitar and Jon Burr on bass. The Chicago Tribune called it "one of the finest discs of his career and one of the greatest jazz violin albums ever." The ensuing Hot Swing CD, Live In New York, received similar praise and ushered in a new group line-up with original member Frank Vignola on guitar, and new to the ensemble, guitarist Julian Lage, bassist Gary Mazzaroppi, and vocalist Heather Masse.
  The "Americana Symphony: Variations on Appalachia Waltz" was recorded by Marin Alsop and the Baltimore Symphony in 2009. David McGee of Barnesandnoble.com and Rolling Stone says "Americana Symphony" may well be regarded one day as one of this country's great gifts to the classical music canon, as well as being a pivotal moment in the rise of the new American classical music." The Associated Press reviewed Mr. O'Connor's Symphony as "a monumental work…inevitably will be compared to Copland."
  In 2003 Mr. O'Connor was commissioned by the Academy of St. Martin the Fields to compose a concerto for violin and chamber orchestra. Violin Concerto No. 6 "Old Brass" takes its inspiration from a Beaufort, South Carolina plantation designed by Frank Lloyd Wright. The recording, conducted by Joel Smirnoff, was released in March 2009 as the companion work to the Americana Symphony.
  Mr. O'Connor recorded his String Quartet No. 2 "Bluegrass" and String Quartet No. 3 "Old-Time". The quartets were recorded with Ida Kavafian, Paul Neubauer, and Matt Haimovitz and released in May, 2009.
  Mark O'Connor's most recent recording, 'Jam Session' (4/13/10, OMAC), offers "dazzling" (Wall Street Journal) live acoustic recordings that combine bluegrass and gypsy jazz. Shore Fire Media describes it as being "comparable in its rhythmic intoxication and stratospheric solos with the Grateful Dead's 'Live/ Dead' or the Charlie Parker/Dizzy Gillespie/Bud Powell/ Charles Mingus/ Max Roach 'Jazz at Massey Hall.' Perhaps no better jam recordings have been captured on acoustic string instruments in recent memory." 'Jam Session' features, in turn, Chris Thile (mandolin), Frank Vignola (guitar), Bryan Sutton (guitar), Jon Burr (bass) and Byron House (bass)。